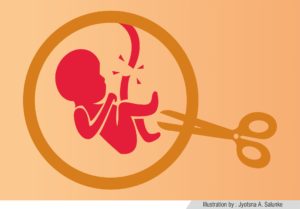 Doctors' fraternity has voiced a deep disappointment over Supreme Court's (SC) decision to reject an abortion plea of a 37-year-old woman pregnant with 23-week-old foetus which has been diagnosed with Down Syndrome.
Doctors have opined that quality of life of the unborn child and social as well as financial burden the mother will have to undergo post birth should have been taken into consideration.
SC on Tuesday said while it is sad that the child may suffer from physical or mental challenges and it is unfortunate for mother, but it cannot allow an abortion. It said, 'We have a life in our hands'.
"SC's decision has led to debate on pro-life. Baby's quality of life has not been taken into consideration. The fact that it will put a lot of social and financial burden on the mother needs to be acknowledged too," said Dr Nandita Palshetkar, Gynaecologist and President of Mumbai Obstetrics and Gynaecological Society (MOGS).
She also raised a question on who will take care of the child once she or he grows up as the mother is 37-year-old.
"The decision is very unfortunate. The whole purpose of having antenatal screening program gets defeated as screenings are done to find out severe abnormalities like Down Syndrome and let the mother decide if she wants the child. Here, we are diagnosing defect and telling the woman that she can do nothing, but give birth to the child with abnormalities," said Dr Nikhil Datar, Gynaecologist and a health activist who has been fighting for the need to increase abortion limit from present 20 weeks to 24 weeks.
In India, Section 3 of Medical Termination of Pregnancy (MTP) Act, 1971 does not allow abortion after 20 weeks of pregnancy.
"People will start terminating pregnancy because of fear of crossing 20 week deadline as in many congenital defects, confirmatory test results come closer to 20 weeks or in 21st or 22nd week of pregnancy," said Datar.
In its recommendation to the Union Health Ministry, the National Commission of Women (NCW) said abortions till 24 weeks of pregnancy should be allowed. After which, in 2014, the Ministry of Health and Family Welfare Department proposed amendment to present MTP Act. The proposed Act, called The Medical Termination of Pregnancy (Amendment) Bill, 2014, proposes to increase abortion limit from present 20 weeks to 24 weeks.
"I am very fortunate to be an Indian, as the constitution as well as the judiciary allows me the freedom and right to speak up and to be heard. But, who is responsible if I am not prepared physically, socially, emotionally and financially to manage a child with special needs? Will I get the required support from the society who decides for the right of an unborn, or the government which denies me the permission to abort," asked Dr Sangeeta Pikale, Gynaecologist.
She said the dilemma and ethics of abortion are not independent of reality that there is no definite support system that can alleviate suffering of disabled child and caring parents.
Related links
For second time in a month, Supreme Court allows abortion of 24-week-old underdeveloped foetus
Ray of hope for traumatised Mumbai couple as KEM doctors inform SC they favour abortion
Another Mumbai woman moves SC for permission to abort underdeveloped foetus
Month-long trauma ends for Mumbai woman as KEM doctors successfully abort her 24-week abnormal foetus
SC gives permission to abort 24-week-old foetus of Mumbai woman
Traumatised couple waits anxiously for Supreme Court nod
Mumbai woman moves Supreme Court seeking permission to abort foetus with serious abnormality