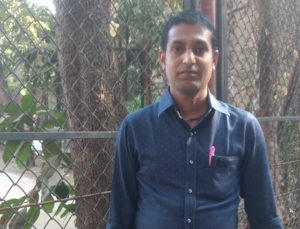 "What we are going through, no other couple should ever face it. We were supposed to celebrate, instead are fighting to abort it," says a sombre Santosh Pal, as he waits for his wife outside the sonography department of KEM Hospital, Mumbai. Pal's wife, who is in her 24th week of pregnancy, was being examined by a team of doctors who have been ordered by the Supreme Court to give a report if her pregnancy can be terminated in such an advanced stage.
A month ago multiple sonography done on Pal's wife had shown that the unborn child has serious developmental defect called anencephaly – absence of brain-which is incompatible to life.
Following this, Pal and his wife had moved the apex court seeking permission to abort the child.
"We have been running from pillar to post ever since. Doctors said our unborn child's brain is not developed and won't survive even a day after birth. If that is the case, then why should my wife go through the physical stress. She is already traumatised," said Pal.
As a team of doctors at KEM Hospital, which included gynaecologists, sonologists, psychiatrist examined his wife, Pal said, "I am a law-abiding citizen of this country and therefore, chose the legal way. But, there are many like us who are suffering. Every couple will not have Dr (Sangeeta) Pikale and Dr (Nikhil) Datar in their life to guide them medically as well as legally. I, therefore, request our government to take a speedy action on abortion laws so that couples like us do not have to knock the doors of law," said Pal.
With doctors at Dombivli unable to help, Pal approached Dr Sangeeta Pikale and Dr Nikhil Datar. "Both the doctors have helped us. With the help of Dr Datar, we filed a petition in SC," said Pal, who works as a freelance typist in Fort.
After hearing their petition on Wednesday, the Apex court had passed an order directing Mumbai's KEM Hospital doctors to examine her case.
The KEM Hospital doctors will be submitting their reports after which SC will take the decision on whether to allow Pal's wife to abort her unborn child.
In India, Section 3 of the Medical Termination of Pregnancy (MTP) Act, 1971, does not allow abortion after 20 weeks of pregnancy. The National Commission of Women (NCW) had recommended to the Union Health Ministry to allow abortions till 24 weeks of pregnancy. After which, in 2014, the Ministry of Health and Family Welfare proposed amendment to the present MTP Act.
The amendment, which will be called The Medical Termination of Pregnancy (Amendment) Bill, 2014, proposes to increase abortion limit from present 20 weeks to 24 weeks.
As per the draft law, for which the ministry had sought public comments in 2014, decision to allow abortion between 20 and 24 weeks can be taken "in good faith" by a health-care provider if, among other conditions, pregnancy involves substantial risks to mother or child, or if it is "alleged by the pregnant woman to have been caused by rape."
Datar had moved to SC in 2008, seeking permission for his patient, Mumbai resident Nikita Mehta, to abort her unborn baby that had cardiac abnormalities after the 20-week limit. In July 2016, he helped a rape survivor file petition with the SC to abort her unborn child with same abnormalities in the 24th week of pregnancy.