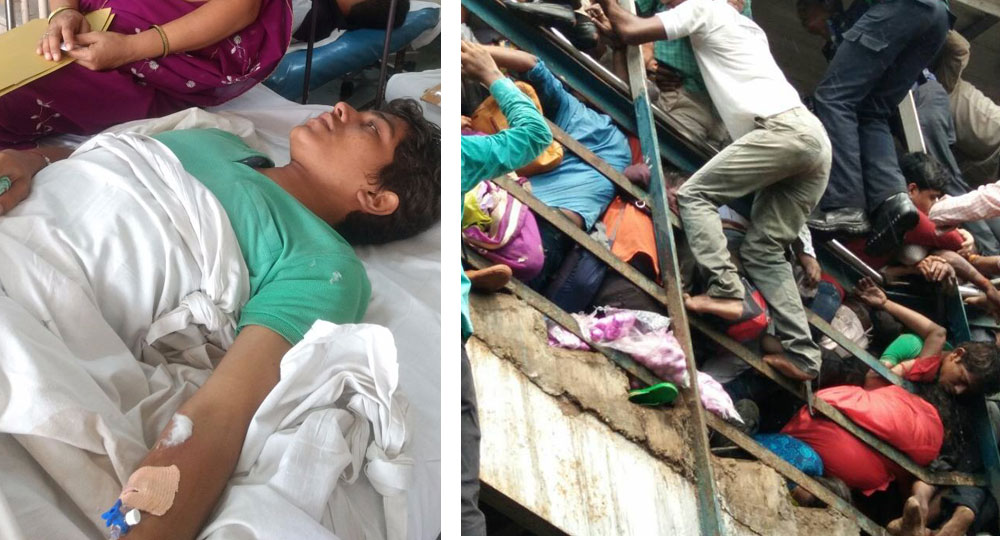 Brothers share a strong bond since childhood; they play together, take care of each other and grow up together. Then, imagine the sorrow of one brother losing the other. How overwhelming would it be for you?
In the gruesome stampede that occurred during the peak hours at Mumbai's Elphinstone station two brothers suffered an inexplicable tragedy.
Akash Parab (19) and Rohit Parab (11) two siblings left home today morning from Kanjurmarg to reach Elphinstone. Both of them were caught in the Elphinstone bridge stampede.
While Akash has suffered injuries in his leg, Rohit is still missing. The family is in distress to find him.
"While walking on the bridge Rohit was walking just beside me. Then suddenly ruckus happened. I couldn't spot him afterwards," said a teary eyed Akash.
Their family has a flower business and both of them had left home, because of work relating to their business.
The hospital has recently shared a list of the deceased, and as per this list Rohit has succumbed to his injuries, although his family is still unaware about it.
In another incident related to the Elphinstone stampede, a woman named Vandana Parsekar who lives in Matunga is desperately on the lookout for her 50 years old elder sister Neha Chachar.
Her sister lives in Dombivali and used to come to Masjid Galli for work. Vandana didn't receive any calls regarding Neha's being part of the stampede. But Vandana is still worried as Neha has not picking up her phone since morning.
Vandana said, "During her lunch break, Neha used to call me every day. Today she hasn't called and her phone is not reachable. I am very worried. I have checked the photos of dead as well. But Neha is not among them. I have been trying to find her everywhere. She just used to travel by train."